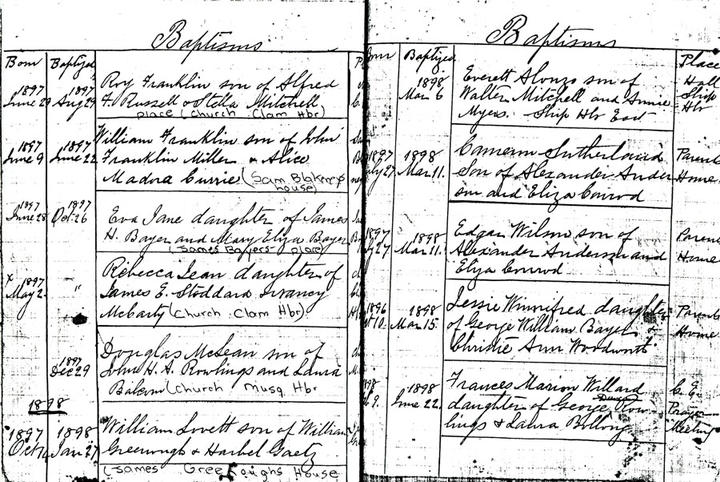 Zone du titre et de la mention de responsabilité
Titre propre
Eastern Shore Archives church records collection
Dénomination générale des documents
Mentions de responsabilité du titre
Notes du titre
Source du titre propre: Title based on contents of collection.
Cote
2003.010, 2004.008, 2011.024
Zone de l'édition
Mentions de responsabilité relatives à l'édition
Zone des précisions relatives à la catégorie de documents
Mention d'échelle (cartographique)
Mention de projection (cartographique)
Mention des coordonnées (cartographiques)
Mention d'échelle (architecturale)
Juridiction responsable et dénomination (philatélique)
Zone des dates de production
Date(s)
[ca. 1972-2002]

(Production)

Producteur

Stevens, Robert Kim, 1941-
Zone de description matérielle
Description matérielle
93 cm of textual records
5 microfilm reels of textual records
Zone de la collection
Titre propre de la collection
Titres parallèles de la collection
Compléments du titre de la collection
Mention de responsabilité relative à la collection
Numérotation à l'intérieur de la collection
Zone de la description archivistique
Nom du producteur
(1941-)
Notice biographique
Robert Kim Stevens was born March 20, 1941 in Alexandria, Virginia, and lived near Fort Hunt, Virginia. He attended Kenyon College, Gambier, Ohio from 1958 to 1962, and after graduating travelled by foot to the Panama Canal. Stevens lived in Washington, D.C. for a year before enrolling as a graduate student at the University of Barcelona, Spain for the 1963-1964 term. Later, he attended Tulane University, New Orleans, Louisiana, also as a graduate student. In 1965, Stevens married Revalee Renick, with whom he had two children.
Around 1965, Stevens joined the United States Department of State as a Foreign Service Officer, which led him to move first to La Paz, Bolivia and then to Rio de Janeiro, Brazil. In 1972, Stevens returned to the Washington, D.C. area, and lived there until 1977, when he moved to Rome, Italy. In 1989, he returned again to Washington, and then lived again in Rome from 1992 to 1995 before retiring in 1996. In 2002, Stevens moved to San Pedro, California.
Stevens' interest in the history and genealogy of the Eastern Shore of Nova Scotia began around 1972, when he began researching his ancestry, and learned that he had ancestors there. His paternal grandfather, Robert Nelson Stevens (1880-1944), was born in Musquodoboit Harbour, Halifax County, Nova Scotia and immigrated to New England in 1904. Stevens began contacting and collaborating with other Stevens family researchers and in 1977 produced the book, The Stevens Families of Nova Scotia with C.J. Stevens (first published 1979). After moving to Rome, Stevens continued researching via correspondence and other means, and produced some local books under the general title North American Records in Italy. In the winter of 1985-1986, he began working on what would eventually become the Eastern Shore Families series of books (1998-). In 2002 Stevens began corresponding with the Lake Charlotte Area Heritage Society and in 2003 agreed the society's archives would receive his archival and research material and also publish his Eastern Shore Families books, with all proceeds from the sales remaining with the society.
Historique de la conservation
Records were accumulated by Robert Kim Stevens until 2003, when he donated them to the Eastern Shore Archives as part of his research records.
Portée et contenu
Collection consists of copies and transcriptions of records from various churches and parishes that were located on the Eastern Shore of Nova Scotia or which were used by Eastern Shore residents. The collection contains baptismal, marriage, burial, and confirmation records along with other church records, dating from 1752 to 1982. Some records are on microfilm or have been copied from microfilm, while others are typed or handwritten transcriptions of records.
Zone des notes
Source immédiate d'acquisition
Donated by Robert Kim Stevens in 2003.
Localisation des originaux
Disponibilité d'autres formats
Restrictions d'accès
Some records require permission from the rector of the church or parish in question in order for copies to be made.
Births dating less than one hundred years, marriages dating less than seventy-five years, and deaths dating less than fifty years are restricted.
Délais d'utilisation, de reproduction et de publication
Instruments de recherche
Accroissements
No further accruals are expected.
Note générale
Other related materials external to the collection being described include:
Letters from Rev. James Rosborough to Mrs. Pearson, MS-2-471, SF Box 43, Folder 12, Dalhousie University Archives
Eastern Shore Archives school returns collection
Identifiant(s) alternatif(s)
Objet numérique - métadonnées
Taille du fichier
248.2 KiB
Téléversé
5 mai 2017 16:54
Objet numérique (Matrice) zone des droits
Objet numérique (Référence) zone des droits
Objet numérique (Imagette) zone des droits