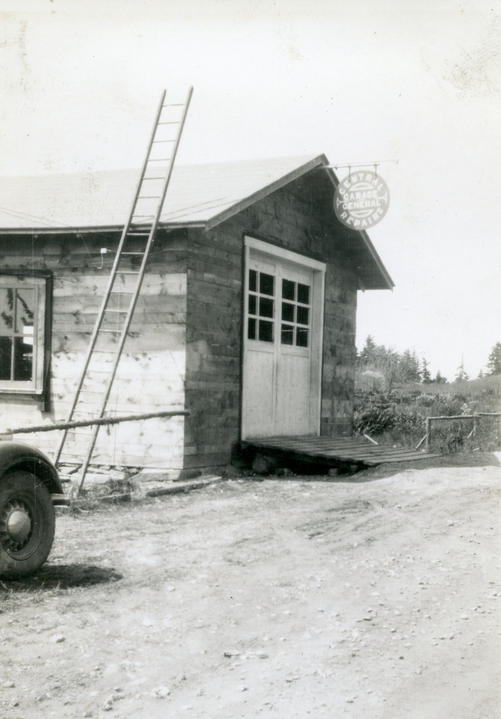 Zone du titre et de la mention de responsabilité
Dénomination générale des documents
Mentions de responsabilité du titre
Notes du titre
Source du titre propre: Title based on contents of fonds.
Cote
Accession numbers 2003.011, 2009.039, and 2010.003.
Zone de l'édition
Mentions de responsabilité relatives à l'édition
Zone des précisions relatives à la catégorie de documents
Mention d'échelle (cartographique)
Mention de projection (cartographique)
Mention des coordonnées (cartographiques)
Mention d'échelle (architecturale)
Juridiction responsable et dénomination (philatélique)
Zone des dates de production
Date(s)
1938-1939, 1946-1951

(Production)

Producteur

Hosking's Garage (Oyster Pond, N.S.)
Zone de description matérielle
Zone de la collection
Titre propre de la collection
Titres parallèles de la collection
Compléments du titre de la collection
Mention de responsabilité relative à la collection
Numérotation à l'intérieur de la collection
Zone de la description archivistique
Nom du producteur
(1930-1950)
Histoire administrative
Hosking's Garage, Oyster Pond, Halifax County, Nova Scotia was opened in the late 1930s by Garth Hosking (1912-1994). In its initial years the garage may have been called the Central Garage, but by 1946 it was clearly called Hosking's Garage. Hosking was a licensed mechanic and also sold gas via a set of Superline pumps. Oirginally, the garage was located not far down the road from the general store run by Hosking's uncle, William Moses Ogle "Willie O" Mitchell (1881-1949), which also sold gas via hand cranked pumps. Mitchell phased the gas pumps out after Hosking's Garage opened. The garage was later moved to its current site as Siteman's Garage on the main road, Highway 7. After Mitchell's death, his store was taken over by Hosking and his wife Mildred (Roberts) Hosking and renamed the Hosking General Store. With the exception of a few years during the Second World War, Hosking's Garage continued to operate until the early 1950s, when Hosking went to work for Dartmouth automobile dealer Teasdale & Foote.
Historique de la conservation
Receipt books remained in the custody of the Mitchell/Hosking family and were located in the warehouse section of the Hosking General Store until the store was dismantled by the Lake Charlotte Area Heritage Society in 1995. The receipt books, along with the records of the Hosking General Store, were then transferred several times to different storage locations under the supervision of the society. The records remained in basement storage (with dehumidifier) for approximately five years before being transferred to their final storage at the Eastern Shore Archives in 2003.
The ledger was acquired at some point by Helen Jennex and kept at her residence in a trunk with various other materials until her son Otis Jennex Jr. gave the material to Lake Charlotte Area Heritage Society member Ford Webber. Webber kept the material in a shed until it was transferred to the Eastern Shore Archives in a series of accessions between 2001 and 2009. The certificate and receipts were kept at the residence of Garth Hosking, and were transferred to the Eastern Shore Archives by his daughter Elaine Dooks between 2008 and 2010.
Portée et contenu
Fonds consists of receipts and receipt books from the garage, a ledger book, certificate, and application form.
Zone des notes
Source immédiate d'acquisition
Receipt books were donated by Garth Hosking's wife Mildred Hosking in 1995 as part of the contents of the Hosking General Store building. Ledger was donated by Ford Webber between 2001 and 2009. Certificate was donated by Garth Hosking's daughter Elaine Dooks in 2008.
Classement
Receipt books are arranged by date.
Localisation des originaux
Disponibilité d'autres formats
Restrictions d'accès
Open to researchers without restrictions.
Délais d'utilisation, de reproduction et de publication
Accroissements
No further accruals are expected.
Note générale
Some records smell of mildew. Researchers and staff are advised to use gloves and masks to protect against mould contamination.
Identifiant(s) alternatif(s)
Objet numérique - métadonnées
Taille du fichier
656.6 KiB
Téléversé
25 janvier 2017 20:02
Objet numérique (Matrice) zone des droits
Objet numérique (Référence) zone des droits
Objet numérique (Imagette) zone des droits