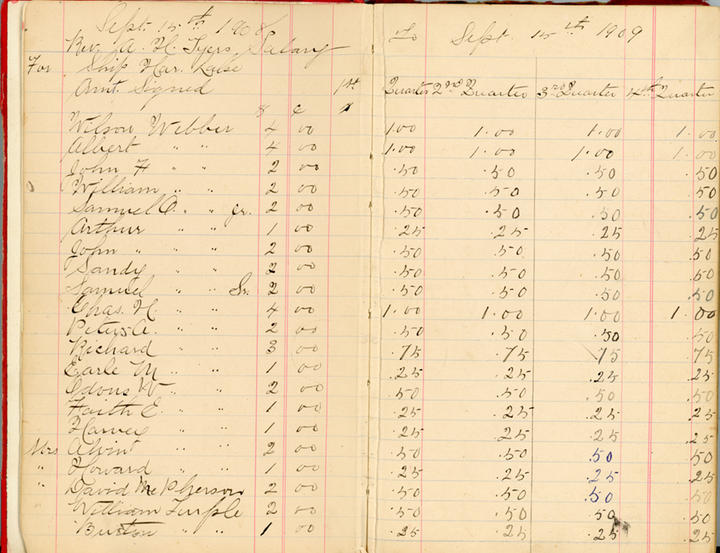 Zone du titre et de la mention de responsabilité
Titre propre
Union Church (Lake Charlotte, N.S.) fonds
Dénomination générale des documents
Mentions de responsabilité du titre
Notes du titre
Source du titre propre: Title based on contents of fonds.
Cote
Accession numbers 2004.015, 2009.044, and 2013.040
Zone de l'édition
Mentions de responsabilité relatives à l'édition
Zone des précisions relatives à la catégorie de documents
Mention d'échelle (cartographique)
Mention de projection (cartographique)
Mention des coordonnées (cartographiques)
Mention d'échelle (architecturale)
Juridiction responsable et dénomination (philatélique)
Zone des dates de production
Date(s)
1896-1966, [2009]

(Production)

Producteur

Union Church (Lake Charlotte, N.S.)
Zone de description matérielle
Zone de la collection
Titre propre de la collection
Titres parallèles de la collection
Compléments du titre de la collection
Mention de responsabilité relative à la collection
Numérotation à l'intérieur de la collection
Zone de la description archivistique
Nom du producteur
(1901)
Histoire administrative
The Union Church of Lake Charlotte, Halifax County, Nova Scotia was founded by a group of residents of the village of Lake Charlotte (then referred to as Lower Lakeville or Ship Harbour Lake), who first met to plan the building's construction in 1896. The church was constructed between approximately 1898 and 1901 and was opened for worship on May 26, 1901. It was initially called the Union Mission House but the name was changed to Union Church in 1933. The church was built and intended to be used by members of different Christian denominations including Anglicans, Presbyterians, Baptists, and Roman Catholics. It was primarily used by the Anglicans and Presbyterians and later by the United Church of Canada, which is currently the only denomination still using the church. Money to erect and maintain the church building and grounds was raised through donations, subscriptions, collections, and various other means over the years such as picnics, suppers, pie and apron sales, garden parties, and card parties. In 1984 the church building and cemetery were taken over by the Lake Charlotte Union Church Cemetery Company. In 1994 a portion of the church was damaged by fire but it was repaired and subsequently rededicated on September 17, 1995.
Historique de la conservation
The account book was with a number of other books belonging to Lake Charlotte Area Heritage Society member Ford Webber, many of which had belonged to his parents E.J. "Ned" Webber and Marguerite "Babe" (Grant) Webber. The book was transferred to the Eastern Shore Archives in 2004. The three reproductions of the minute books were copied and given to the Archives in 2009 by Clara Kidson, a long time member of the church. The originals are currently located at the Maritime Conference Archives in Sackville, New Brunswick. The original minute book contained in this fonds was donated by the Lake Charlotte United Church in 2012.
Portée et contenu
Fonds consists of records of the Union Church of Lake Charlotte, Halifax County, Nova Scotia and include account books and other financial records and minutes of meetings.
Included is an original account book detailing the annual list of individuals who contributed to the church, along with the amount paid to the minister. Cash disbursements and cash received are logged at the back of the book. Fonds also contains reproductions of three books containing the meeting minutes of the church dating from the first meeting in 1896 up until 1987. The books also record financial accounts of the church from 1896 to 1994, including cash disbursements and cash received. Also included with the books are reproductions of receipts and sheets of paper recording subscriptions for repairs to the church building, accounts, and other information.
Zone des notes
État de conservation
Original account book is fragile, covers have fallen off.
Source immédiate d'acquisition
The account book was donated by Ford Webber in 2004. The reproductions were donated by long time church member Clara Kidson in 2009. The minute book was donated by the Lake Charlotte United Church in 2012.
Localisation des originaux
Original minute books and financial records, copies of which Clara Kidson donated to the Archives, are housed at the Maritime Conference Archives in Sackville, NB.
Disponibilité d'autres formats
Restrictions d'accès
Open to researchers without restriction.
Délais d'utilisation, de reproduction et de publication
Instruments de recherche
Accroissements
No further accruals are expected.
Note générale
Lake Charlotte Union Church also appears as a name of the Church in the fonds.
Description matérielle
Includes 5 volumes of textual records
1 folder of textual records
Identifiant(s) alternatif(s)
Objet numérique - métadonnées
Taille du fichier
519.1 KiB
Téléversé
25 février 2017 16:31
Objet numérique (Matrice) zone des droits
Objet numérique (Référence) zone des droits
Objet numérique (Imagette) zone des droits